Conference Reports
Since 1998, MCART has worked with an international volunteer agency, ICVolunteers, to offer exciting opportunities both to volunteers and to organizers of nonprofit and humanitarian conferences.
Download our brochure (English PDF)
(This file requires Acrobat Reader.)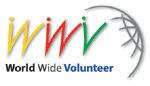 World Wide Volunteer
Also with ICVolunteers, we are developing a library of documents regarding national and international volunteering, as well as an online library on volunteering and the information society. The site was originally created in view of the World Summit on the Information Society (WSIS).
---